Las eolianitas de la Formación Agua de la Piedra (Mioceno Tardío), Cordillera principal (Provincia de Mendoza, Argentina)
Palabras clave:
Médanos; Pedemonte; F. Agua de la Piedra; Cordillera Principal; Mioceno Superior.
Resumen
Se analiza la sedimentología y la arquitectura depositacional de las secuencias aflorantes en las localidades de La Jaula y Agua del Médano, Provincia de Mendoza con el objetivo de dar a conocer la presencia de médanos pedemontanas, pertenecientes a la Formación Agua de la Piedra, de edad miocena tardía.
Citas
Chrinzt, T. y L. Clemmersen, 1993. Draa reconstruction, the Permian Yellow Sands, northeast England. En K. Pye y N. Lancaster (Eds.), Aeolian Sediments: Ancient and Modern. Special Publication of International Association of Sedimentologist 16:151-161.
Combina, A. M. and F. Nullo, 2005. Tertiary Volcanism and Sedimentation of the South of the Cordillera Principal, Mendoza, Argentina. En Sempéré Thierry (ed.), Resúmenes expandidos 6th ISAG: 174-177.
Combina, A., 1996. Evolución tectosedimentaria del Terciario continental de la Cuchilla de la Tristeza, al norte del Cerro Sosneado (Mendoza) y su vinculación con los levantamientos de la Cordillera Principal. Tesis Doctoral. Facultad de Ciencias Físico-Químicas y Naturales. Universidad Nacional de Río Cuarto, 196 pp. (inédito).
Loope, D. y C. Rowe, 2003. Long-lived pluvial episodes during deposition of the Navajo Sandstone. Journal of Geology 111: 223-232.
Mountney, N. y J. Howell, 2002. Aeolian architecture, bedform climbing and preservation space in the Cretaceous Etjo Formation, NW Namibia. Sedimentology 47:825-849.
Trewin, N., 1993. Mixed aeolian sandsheet and fluvial deposits in the Tumblagooda Sandstone, Western Australia. En North, C. y D. Prosser (eds) Characterization of fluvial and aeolian reservoirs. Geological Society Special Publication 73:219-230.
Veiga, G., L. Spalletti y S. Flint, 2002. Aeolian/fluvial interactions and high-resolution sequence stratigraphy of non-marine low-stand wedge: the Avilé member of the Agrio Formation (lower Cretaceus), central Neuquén Basin, Argentina. Sedimentology 49:1001-1019.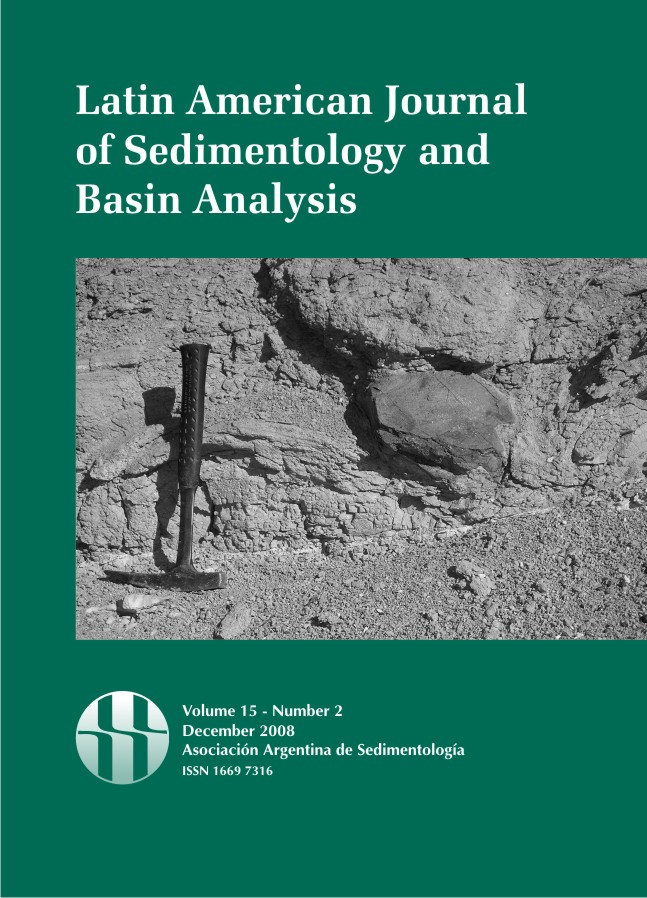 Descargas
Cómo citar
Combina, A. M. . (2021). Las eolianitas de la Formación Agua de la Piedra (Mioceno Tardío), Cordillera principal (Provincia de Mendoza, Argentina). Latin American Journal of Sedimentology and Basin Analysis, 15(2), 151-154. Recuperado a partir de https://lajsba.sedimentologia.org.ar/index.php/lajsba/article/view/91
Licencia
Esta obra está bajo una licencia internacional Creative Commons Atribución-NoComercial 4.0.